Leading California Employment & Labor Attorneys
At Blackstone Law, our goal is to change your impression of the legal process by delivering aggressive representation as well as exceptional service with compassion. We work on a contingency basis for employment and personal injury cases because we know that passionate advocacy should be available to everyone, regardless of your financial standing. Our business model is simple: treat our clients like family and represent their interests with honesty and integrity.
Our priority is fighting on your behalf and making sure that the law is enforced fairly and equitably. No one is above the law, and we make sure to hold all individuals, companies, and institutions accountable. While we are proud of our history of excellence and successful case resolutions, we believe the most important thing we can offer is integrity. If you need dedicated, determined, and honest legal representation, contact Blackstone Law. We will fight for results and ensure that your rights are upheld.
Our Clients' Testimonials…
50 five-star Google reviews
"I am so happy I found Blackstone Law Group. I was looking for a talented attorney for an employment issue i was having an after looking online and yelp I found Jonathan. From all of my experience with him it was really professional. He has all the qualities of what I think makes an awesome lawyer. Someone who will advocate on behalf of who he's representing. Someone who has integrity. And I wanted a lawyer who was attentive and listened to me, but understood the law and how to get the best results for my specific case. He was also a good advocate because he is aggressive for his clients and putting your interest above everything…"
"We updated our employee's contracts and asked for a professional opinion from lawyers. Mr. Genish from Blackstone was very professional/through and gave us his review in a sort period of time. We were very pleased with his service."
"Cannot stop thanking Jonathan and his team. The process in hiring a lawyer was new to me and very intimidating. Every lawyer was promising me the moon and back. Finally I was referred Blackstone and they really put things into perspective for me and were reasonable in the expectation they set. I can say that they stood by their promise and I am overjoyed at the customer service and representation that I received. They were professional, very compassionate but kept their aggressive approach and the outcome spoke for itself. Highly highly recommend them!"
"After a debilitating back injury even going to work was challenging. As an orthodontist, this was an impossible situation. I did not even realize that I should speak to a lawyer about my situation. I was referred Jonathan at Blackstone Law and I decided to call and see if I had a case. Jonathan and his team were so amazing they really spent so much time ensuring i was well taken care of and represented. They really had my back (literally and figuratively!) Best lawyer in Los Angeles and really anywhere. Thank you so much for everything!!! Highly recommended!"
"As a public insurance adjuster, I am faced with guiding clients through challenging personal situations. Unfortunately, insurance companies aren't always willing to provide my clients with the appropriate financial recovery to cover their losses. Thankfully, I found Jonathan to help me fight for my clients' rights. An aggressive, fearless and professional lawyer who truly cares about the clients he represents and will jump through hoops to help get them the settlements they deserve. I am so grateful to have a working relationship with this highly recommended attorney and wonderful person."
"Jonathan is an amazing attorney. He helped me with a difficult situation and was patient through the process with my case. He explained everything to me and I am not at all familiar with these situations. Highly recommend the firm and you will get the best outcome ."
"Thank you Blackstone Law for everything. About one year ago, I was involved in a car accident in which I totalled my vehicle. I was injured and had back pain and this made working extremely difficult. I desperately needed a chiropractor and the insurance company of the person who hit me was trying to give me the bare minimum. Jonathan was a so awesome, him and his entire team were so caring, spent time updating me every step. He was able to help me recover all my losses. Thank you so much. Best car accident lawyer ever. Thank you."
Our Process
From initial consultation to final judgment, we'll advocate for you at every stage of the legal process. We work to understand the specifics of your case while anticipating likely defense arguments. After we've established the facts, we'll work to determine whether your case belongs in state or federal court. We have experience litigating in both forums, and we prepare for trial from the moment the suit is filed. Whether you're seeking a settlement or a jury trial, we represent your best interests and work to see that justice is served.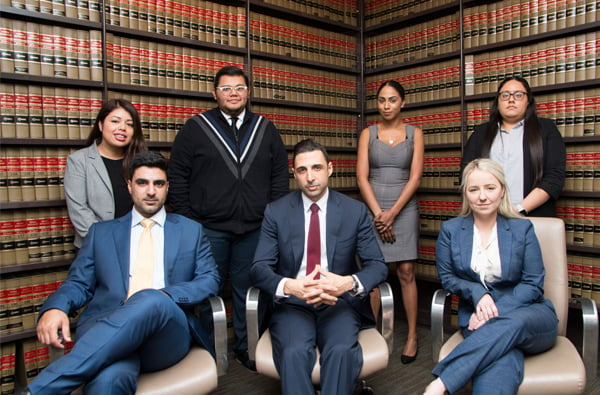 Request a Free Consultation
 At Blackstone Law, our goal is to change your impression of the legal process by delivering aggressive representation & exceptional service.  Our business model is simple: treat our clients like family and represent their interests with honesty and integrity.